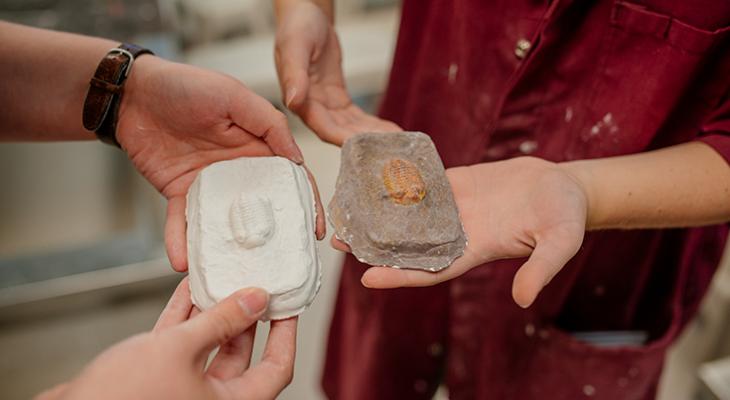 ---
---
By using simple chemical reactions, we can create a cast of an original fossil for display. In this popular program, students create a replica of a Museum fossil to take home, complete with details about the fossil's age, and where it was found. Participants also learn how molds and casts are made, and examine real fossils. 
---
Now available in French / Maintenant disponible en français.
---
Please Note:
Silicone molds are used in the making of the casts. 
Minimum program fees will be charged for groups of fewer than 15 students.
---
---
Curriculum Connections
Grade 2: Science – Exploring Liquids
Grade 3: Science – Building with a Variety of Materials
Grade 4: Math – Patterns and Relations
Grade 5: Science – Classroom Chemistry
Grade 6: Science – Evidence and Investigation; Math – Patterns and Relations
Grade 7: Science – Heat and Temperature, Planet Earth
Grade 8: Science – Mix and Flow of Matter
Grade 9: Science – Matter and Chemical Change
Grade 10: Science 10 – Energy and Matter in Chemical Changes
Grade 11: Science 20 – Chemical Changes, the Changing Earth; Biology 20 – Ecosystems and Population Change
---
Download Teacher Resource Guide
2
3
4
5
6
7
8
9
10
11
All Grades