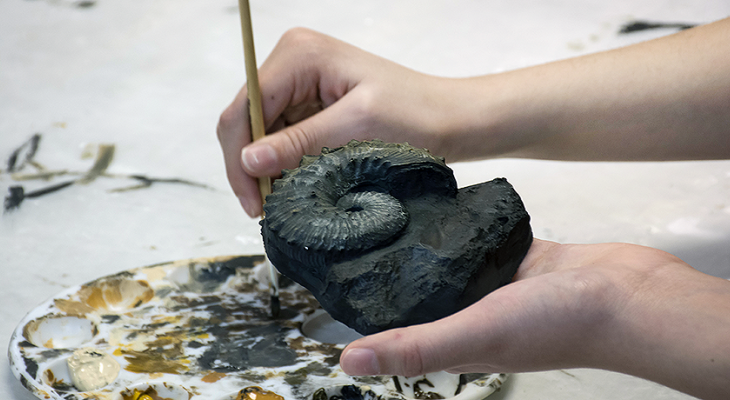 ---
---
Art and science merge as students make and paint a fossil cast and learn about exhibit signage. What is a fossil cast? Why do museums use casts? How do you write an explanation of a fossil's significance?
Students will discover the importance of fossil casts and how exhibit text is developed to connect with visitors. Once back in the classroom, students will develop their own museum exhibit and we'll provide teachers with all the necessary information to help with their students' projects.
---
Please Note:
Minimum program fees will be charged for groups of fewer than 15 students.
---
---
Curriculum Connections
Grade 4: Art – Painting Techniques, Adding Details and Textures
Grade 5: Art – Composition, Painting Techniques, Adding Details and Textures; Science – Classroom Chemistry
Grade 6: Art – Composition, Painting Techniques, Adding Details and Textures
Grade 7: Art – Use of Colour; Science – Heat and Temperature, Planet Earth
Grade 8: Art – 3-D Compositions
Grade 9: Art – 3-D Compositions; Science – Biological Diversity, Matter and Chemical Change
Grades 10-12: Art – 3-D Forms, Painting Techniques
Grade 11: Science 20 – The Changing Earth
---
Download Teacher Resource Guide