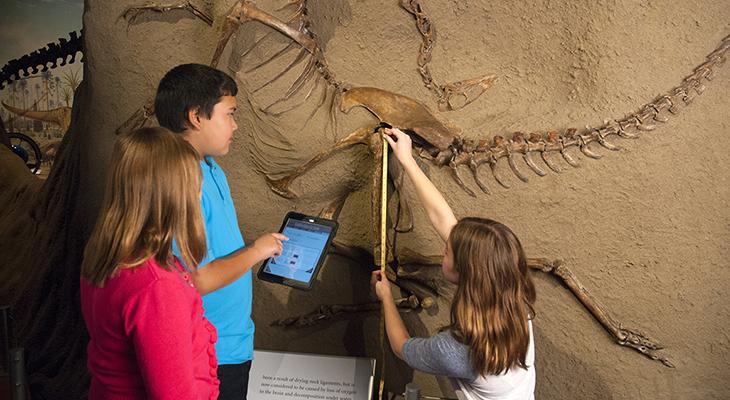 ---
---
Working in groups, students will explore the mechanics of how dinosaurs moved, by comparing them to living animals. Using their mathematical skills, they will take measurements of dinosaur skeletons in Dinosaur Hall. A discussion afterwards allows them to share their findings with their classmates.
---
Please Note:
Available September to March.
Minimum program fees will be charged for groups of fewer than 15 students.
---
---
Curriculum Connections
Grade 6: Science – Evidence and Investigation; Math – Numbers, Patterns and Relations (Variables and Equations), Shape and Space (Measurement), Statistics and Probability (Data Analysis); Language Arts: General Outcomes
Grade 7: Science – Planet Earth; Math – Numbers, Patterns and Relations (Variables and Equations), Shape and Space (Measurement), Statistics and Probability (Data Analysis); Language Arts: General Outcomes
Grade 8: Science – Cells and Systems; Math – Numbers, Statistics and Probability (Data Analysis); Language Arts – General Outcomes
Grade 9: Science – Biological Diversity; Math – Statistics and Probability (Data Analysis); Language Arts – General Outcomes
---
Download Teacher Resource Guide