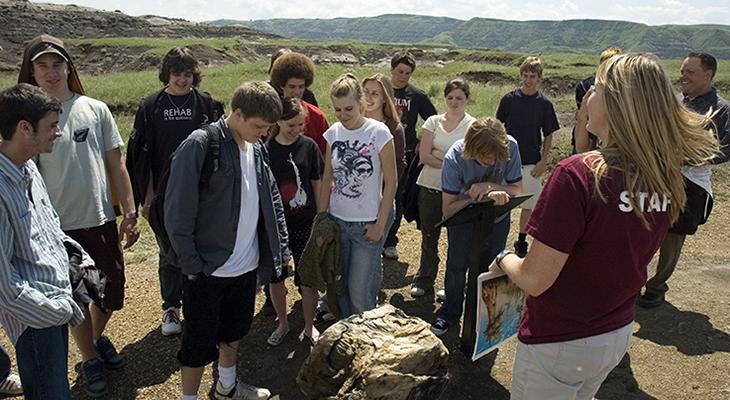 ---
The Palaeontology 15 and 25 courses were developed in partnership by the Golden Hills School Division, the Royal Tyrrell Museum, and Drumheller Valley Secondary School. These high school courses introduce students to palaeontology and prepare them for university study. Featuring hands-on programs at the Museum, videoconference sessions, and in-classroom learning, these science courses are available to schools throughout Alberta.
---
Palaeo 15
Palaeontology 15 is an introductory science course that integrates many disciplines—biology, geology, physics, and chemistry. Students delve into the history of life on Earth and discover the fundamentals of the scientific process.
We offer most of the experiences via videoconferencing, but encourage schools to take advantage of the surrounding badlands, galleries, and fossil casting lab in up to three visits to the Museum (depending on travel feasibility). 
---
Palaeo 25
Building on Palaeontology 15, Palaeontology 25 explores evolutionary theory. Students are introduced to systematics and classification for ancient life, major innovations in evolution, and biogeography and extinctions.
Practical experiences are provided through a combination of visits to and videoconferencing sessions with the Museum.
---
Contact
To add Palaeontology 15 and/or 25 to your curriculum, please contact:
Golden Hills School Division
403-934-5121
---
After your school has acquired either course from Golden Hills School Division, please contact the Royal Tyrrell Museum of Palaeontology to discuss course materials, course assessment, and professional development training.
---