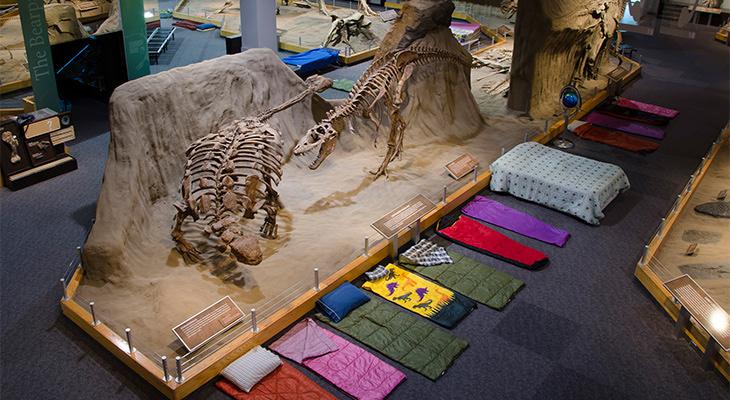 ---
---
A sleepover unlike any other! Sleep alongside the fascinating dinosaurs in Dinosaur Hall in our Edutour program. Participate in hands-on workshops, tour the galleries, and enjoy an evening activity in the Town of Drumheller.
---
Program runs on requested weekdays beginning at 12:45 p.m.
We require one chaperone for every eight students. Additional chaperones are subject to a fee.
Prices for the 2023 – 2024 school year include all activities and materials, two snacks, supper and breakfast, and admission to the Museum.
---
Single Group —  32 students + chaperones (36 total)
Fee (October 2023 – February 2024) — $1850
Fee (March – June 2024) — $2000
---
Double Group — 64 students + chaperones (72 total)
Fee (October 2023 – February 2024) — $3400
Fee (March – June 2024) — $3700
---
Contact our Bookings Office for any additional questions about Edutours.
---
Frequently Asked Questions
What will we eat?

Meals are served in our cafeteria. Any dietary concerns must be indicated on registration forms. With advance notice, we will do our best to accommodate food allergies and dietary needs. Contact our Bookings Office for the Edutour menu.

Is the Edutour program available in French? 

Please indicate if you are a French immersion/French-speaking school in the "additional comments" section of our registration form. Our coordinator will contact you directly.

What are your transportation policies?

Schools are solely responsible for their transportation during an Edutour. In the event of an emergency evacuation that prevents participants from staying overnight, groups would need transportation to leave the Museum site. The transportation driver(s) may stay offsite as long as they can reach the Museum within half an hour to pick up participants.

I am attending a Single Edutour and was told that there will be a second school present. What does this mean?

When there are two schools at an Edutour, they will be together during their orientations, evening activity in Drumheller, snack and meal times, auditorium program, and when they go to sleep. Both schools will bunk down in Dinosaur Hall. There will be designated areas between exhibits to allow some privacy and separation between the two groups. Educational programming will be separate, and each school will have their own exclusive Science Educator assigned to their group. Although meal times take place at the same time, the schools may choose different menus.

What is your cancellation policy?

A non-refundable/non-transferable deposit is due within 30 days of booking. There is no refund for an Edutour cancelled less than three weeks prior to your sleepover. Edutour nights cancelled by the Museum will be refunded in full if an alternate date cannot be found.
3
4
5
6
7
8
9
10
11
12
All Grades