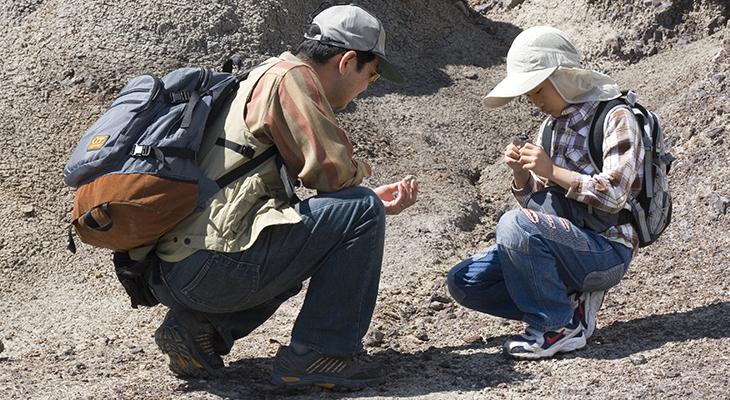 ---
---
Our Junior Science Camps are the opportunity of a lifetime for young scientists to get a taste of real palaeontology and have tons of fun in a safe, well-supervised environment. Campers will prospect for dinosaurs, screen wash and sort real fossils, learn about field jacket preparation, and discover palaeontology under the guidance of staff developed through the Badlands Science Camp Leadership Program.
---
Please Note: 
Due to the COVID-19 pandemic and the guidelines issued by Alberta Health Services, Badlands Science Camp 2021 will be offered in a day camp format instead of the traditional overnight experience.
Parents of participants must be informed of our COVID-19 Protocols.
Two-day and five-day camps will be offered for Junior Campers. One of the two-day Junior Camp sessions will include one parent per child cohort to participate. View sample activities.
---
2021 Dates: 
*2-Day Junior + Parent Camp: July 1 – 2, 2021  
2-Day Junior Camp: August 16 – 17, 2021      
5-Day Junior Camp 1: July 5 – 9, 2021  
5-Day Junior Camp 2: July 19 – 23, 2021     
5-Day Junior Camp 3: August 2 – 6, 2021
* Our first Camp for the 2021 season is a two-day Junior Day Camp designed for one parent and their child(ren). The maximum parent to child ratio is 1:1. More than one child is permitted with a single parent. The remaining day camps are designed for children only.
---
General Camp registration will open on April 20 at 10:00 a.m. MT.
Contact our Bookings Office if you have questions.
---
Contact Our Bookings Office
Office Hours
Monday – Friday 8:15 a.m. – 4:30 p.m. (MT)
Toll-free in Alberta
310-0000 then (403) 823-7707
Toll-free in North America (outside Alberta)
1-888-440-4240
Outside North America
1-403-823-7707