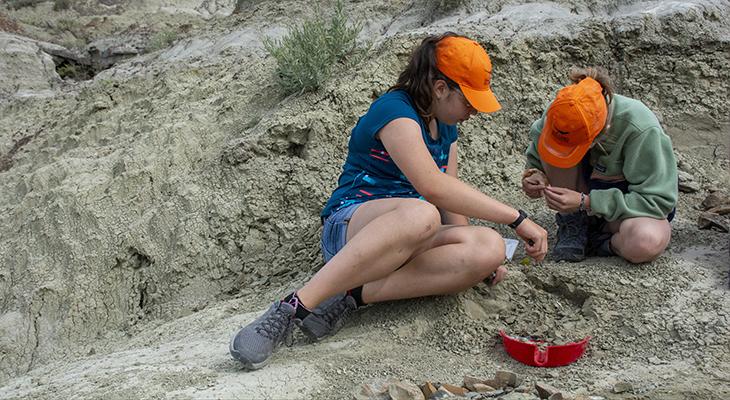 ---
Science Camp Overview
Learn basic geology, prospect for real dinosaur fossils, and contribute to ongoing palaeontological research by participating in amazing hands-on science projects. Activities will take place in the breathtaking Alberta badlands, as well as in our spacious Learning Centre facilities.
Badlands Science Camp gives young scientists a taste of real palaeontology. Each camp is geared to meet the expectations and abilities of youth (9 – 12 or 13 – 17 years). The incredible natural resources of the area, combined with access to the scientific research at the Royal Tyrrell Museum, make Badlands Science Camp a once-in-a-lifetime experience.
---
---
Meet The Camp Coordinator
Shantelle Bron has been a part of Badlands Science Camp since 2006. Her lifelong love of palaeontology and the outdoors make the coordinator position her dream job. In her spare time, Shantelle is an avid reader, passionate baker, and student of political theory.
---
Mission and Philosophy
Badlands Science Camp aspires to foster an appreciation of the natural sciences and the environment by providing fun, interactive, and educational week-long camps for youth in the Alberta badlands. 
We build our Camp around the following core values:
Education
Personal Growth
Community
Environmental Awareness
Badlands Science Camp is an inclusive community, where we value, respect, and welcome all people, regardless of their gender, gender identity, gender expression, or any other factor. We strive to ensure that all campers are comfortable with their tent assignments, or have the opportunity to request alternate arrangements. We ask parents to contact our Camp Coordinator with any questions about accommodations at Shantelle.Bron@gov.ab.ca .
Badlands Science Camp thanks the Royal Tyrrell Museum Cooperating Society for its support in making Science Camp possible.

We thank Alberta Arts, Culture and Status of Women for granting use of land in Midland Provincial Park for Badlands Science Camp. The camps will implement responsible environmental practices to protect this unique and beautiful landscape.
---
Frequently Asked Questions
What is the check-in procedure?

After you have unloaded your camping gear and parked your vehicle, proceed to the front doors of the Royal Tyrrell Museum Learning Centre. One of our Camp staff will register your child and answer any questions you have. If your child has medications or a medical condition, please speak with the Camp Coordinator in the Learning Centre lobby. All medications, except asthma puffers and Epipens, must be left with the Camp Coordinator for security reasons. Check-in time is 6:00 p.m. for both Senior & Junior Camps.

What is the check-out procedure?

On the last day of Camp, all camping gear is transported back to the Museum and organized in the Royal Tyrrell Museum Learning Centre lobby. Children will be kept in a classroom until parents arrive. They will then be led out to the lobby and helped to locate their gear. Parents will be asked to fill out a brief evaluation form at that time. Lost and found items will be held until September 30, after which they will be donated to the Salvation Army Thrift Store. Claimed items will be returned at the owner's expense. Check-out time for Junior Camps is 6:00 p.m., and Senior Camp is 10:00 a.m. on the final day of camp.

Where is Camp located?

Camp is a 20-minute hike (about 1 km) from the front entrance of the Royal Tyrrell Museum. This hike is completed at least twice a day—once in the morning to get to the Museum, and back to the campsite in the evening.

What do you do in case of severe weather?

We monitor the weather constantly, using radar and satellite imagery on our portable devices. At night, we use a radio, which automatically turns on when an Environment Canada NOAA weather alert is issued. We have a clearly defined emergency procedure, an onsite evacuation shelter, and a bus on standby should we need to move campers to the Museum at any time, day or night.

Are there shower facilities at Camp?

No. However, each Camp session includes at least one trip to the Drumheller Aquaplex for a refreshing swim, soak in the hot tub, and a hot shower. A limited amount of water is available at the campsite for washing and tooth brushing needs. Shower facilities are available at the Museum for emergencies only.

What about meals?

Breakfast is served at Camp. It usually includes a variety of breakfast cereals, fresh fruit, bagels, juice, and milk. Lunch is served in the Royal Tyrrell Museum Learning Centre and alternates between a build-your-own sandwich buffet, pizza, taco-in-a-bag, and wraps, as well as veggies, fruit, juice, and dessert. Snacks are also served midday to keep energy levels up. A hot dinner is prepared and served in our cafeteria each evening. Vegetarian options are available. Food allergies and dietary needs can be accommodated with advance notice. Unfortunately, we cannot guarantee a gluten or peanut-free environment. NOTE: Dinner is not served on the first night of Camp; please arrange to eat before arriving.

What is your policy regarding bullying at Science Camp?

Abuse of any kind is not tolerated at Badlands Science Camp. If an incident occurs, the parties involved are immediately moved to different tent groups to mitigate any further bullying opportunities. The child responsible for the abuse then meets with the Camp coordinator and is given one warning. If there is a second incident, the Camp coordinator will contact the offending child's parents to discuss a resolution – including sending the offender home if necessary.

What kind of security clearance do your Camp staff have?

All of our Camp staff are thoroughly screened and must complete an RCMP vulnerable sector background check (i.e., clearance for working with children) prior to being hired. We also abide by the Alberta Camping Association policy, which restricts an individual staff member from being alone with a single child, at any time. We strive to hire Camp staff from our pool of leadership training program graduates who have attended Science Camp for multiple years themselves.

How can I contact a camper in case of emergency?

The Camp Coordinator is on call 24 hours a day while Camp is in session. You will be provided this number once registration is complete. You can also call the Royal Tyrrell Museum switchboard during regular business hours. In Alberta dial 310-0000 then (403) 823-7707, or in North America, 1-888-440-4240.

Do campers have to pay to enter the Museum?

Admission to Badlands Science Camp grants you access to the Royal Tyrrell Museum during your stay. There are no additional fees at Camp. If you choose to visit the Museum after your stay at Camp, admission fees will apply.
---
Contact Our Bookings Office
Office Hours
Monday – Friday 8:15 a.m. – 4:30 p.m. (MT)
Toll-free in Alberta
310-0000 then (403) 823-7707
Toll-free in North America (outside Alberta)
1-888-440-4240
Outside North America
1-403-823-7707
Email
tyrrell.bookings@gov.ab.ca
---
Kids & Families
Outdoors
7 – 12
6+
3 – 6