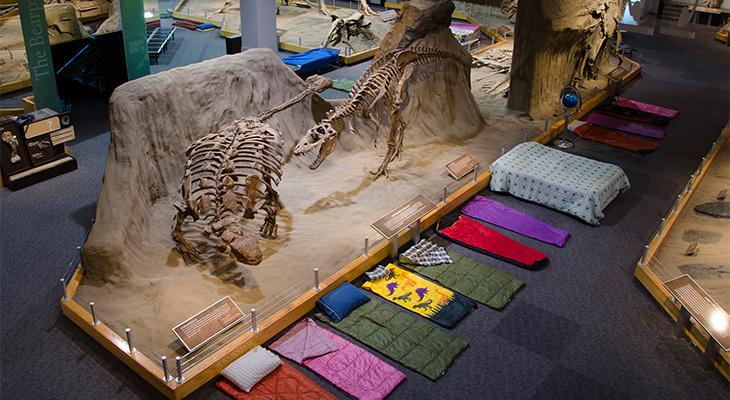 ---
---
Sleep over at the Museum in our Camp-In program!
Participate in hands-on workshops, sleep alongside the fossils in Dinosaur Hall, and tour the galleries.
This is a great experience for families, youth groups, or organizations.
---
Please Note: We have cancelled our Camp-In programs until further notice.
---
Camp-Ins are available on Friday and Saturday nights in October, November, February, March, and April.
We require one adult chaperone for every five children.
Children under five are not permitted to attend any portion of the Camp-In.
Each Camp-In begins at 6:30 p.m. and can accommodate up to 100 participants.
Camp-In programs are co-ed and are not designated for one gender only.
Price includes all activities and materials, a bedtime snack, breakfast, and admission to the Museum the following day.
---
Contact our Bookings Office with any additional questions about our Camp-In program.
---
---
Frequently Asked Questions
What will we be eating?

Meals are served in our cafeteria. Any dietary concerns can be indicated on registration forms. With advance notice, we will do our best to accommodate food allergies and dietary needs. Contact our Bookings Office for the Camp-In menu.

Does the Museum provide bedding/cots?

Due to health and safety concerns, we do not provide any of the sleeping items needed to stay overnight. Foam or air mattresses bigger than twin or double are not allowed because of limited space. Contact our Bookings Office for a suggested packing list.

Are there shower facilities?

There are no shower facilities available to participants.

What are your transportation policies?

Groups/families are responsible for their transportation during their Camp-In. In the event of an emergency evacuation that prevents participants from staying overnight, groups/families will need transportation to leave the Museum. The transportation driver(s) may stay offsite as long as they can reach the Museum within half an hour to pick up participants.

When would a Camp-In be cancelled?

A minimum of 40 participants per Camp-In is required. Cancellation due to severe weather is made by the Museum with input from the parties booking by 3:00 p.m. the day of the Camp-In. In the event of cancellation, each group is responsible for contacting all their participants.

If a Camp-In is cancelled because of low numbers or severe weather, your group will be offered an alternate date. If your group cannot attend on the alternate date, we will issue you a full refund.
---
Contact Our Bookings Office
Office Hours
Monday – Friday
8:15 a.m. – 4:30 p.m. (MT)

Toll-free in Alberta
310-0000 then (403) 823-7707

Toll-free in North America (outside Alberta)
1-888-440-4240

Outside North America
1-403-823-7707

Email
tyrrell.bookings@gov.ab.ca
Camp–Ins
Kids & Families
5 – 13
6+
7 – 12
4+