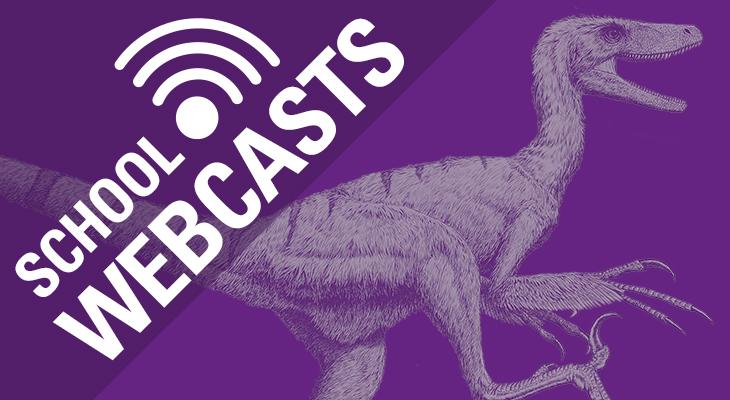 ---
---
Engage your learners throughout the year with our seasonal webcasts! Tune in live or view a recording. We will offer four different programs that can be booked individually or as a package.
10 Scariest Specimens
Prepare to be frightened as the Royal Tyrrell Museum of Palaeontology presents the Top 10 Scariest Specimens in our Collection! Along with some new contenders, you will see a crocodile skull the size of a Smart Car, the largest dinosaur claw ever found, and a creature with a set of teeth bigger than T. rex! The program concludes with a Q&A session with a Museum expert. With the fossils we share, you'll be in for a scare!
Ice Age Safari
Explore the mammals that evolved after the extinction of the dinosaurs, and find out how these ancient beasts adapted as North America's climate changed from tropical to an ice age. Using real fossils from our Collection, you will see some familiar favourites such as the mammoth and sabre-toothed cat, but also meet some unique mega-mammals like the giant ground sloth and Glyptodont. The program concludes with a Q&A session with a Museum expert. We'll find out not all giants were dinosaurs!
First Steps: Dinosaur Eggs & Babies
From little feet to towering titans, we'll explore the mysterious history of dinosaur eggs and babies. Learn about egg-citing discoveries, how different dinosaurs protected their babies, and what fossils can tell us about parental care. The program concludes with a Q&A session with a Museum expert. See what's cracking at the Royal Tyrrell Museum! 
Discovering Dinosaurs
Explore our world-famous Dinosaur Hall! This tour introduces young participants to the study of palaeontology, and the dinosaurs that lived in ancient Alberta. Each stop explores a different curriculum concept, like carnivores and herbivores, predators and prey, or plants and the ancient environment. After the tour, there will be lots of time for questions with our dinosaur experts.
Behind the Scenes Webcast
Join us as we go live behind the scenes at the Royal Tyrrell Museum! As we follow the journey of a fossil, you will see what happens to the fossils when they arrive after an excavation. Learn how the fossils get cleaned, prepared for display, and stored. There will be a Q&A period following the program to have your questions answered by our experts. Are you ready to go where only the staff are allowed?!
Please Note:
Webcasts are multi-school events conducted through Zoom. There will be no audio or video from participants. There will be a Q&A period at the end of each program, and questions can be submitted through the Q&A window. Registration for each program closes at 3:30 p.m. MT the week before the program is offered. The program link will be emailed at 4:00 p.m. two days prior to your program. A recording of the program will be made available the following day for 72 hours.
Dates and Times:
Select the program(s) you would like to book. 
*A single program is $25, or book all four programs for $80. One class includes up to 30 students. 

The price per individual at-home learner (one connection) is $8, or $25 for all four programs.
A recording of each program is available on demand for 72 hours following the live program.
These seasonal programs are also available for private bookings for $135 each during the following date ranges:
10 Scariest Specimens: Oct. 23 – 31, 2023.
Ice Age Safari: Dec. 13 – 20, 2023.
First Steps: Dinosaur Eggs & Babies: Mar. 13 – 21, 2024.
Complete the form below for all regular bookings. 
Payment is due by credit card once your registration request is processed.